Montana Bill of Sale Templates
A bill of sale is an essential legal document that people use to create a record of the transfer of ownership. Once both or all parties involved need to sign the bill of sale, copies should be made. Both the buyer and seller should retain these copies for their records, and the buyer may also need a copy for registration purposes.
Montana General Bill of Sale
A general bill of sale typically can include the sale of any type of personal property, anything from small household items to much more expensive items. A signed bill of sale is a crucial protection for both parties in case there is any dispute after the sale.
Montana Car Vehicle Bill of Sale
A Montana car bill of sale document applies when purchasing a car or truck. Use a car vehicle bill of sale to ensure that you include all pertinent info such as make, model, VIN, color, odometer, etc. The buyer and seller will both need to sign it, but an official notarization is not necessary.
Montana Motorcycle Bill of Sale
The motorcycle bill of sale document is for when purchasing or selling a motorcycle and will record all relevant information, such as the odometer. It will have the same layout and requirements as other sales documents, so make sure you are filling out the form specifically for motorcycles.
Montana Boat Bill of Sale
You can use a boat bill of sale document when selling any type of watercraft. It provides proof of ownership for the buyer and can be used to earn a tax credit for the seller. A bill of sale will be required for registration and license purposes as well.
Montana Trailer Bill of Sale
When purchasing or selling a trailer, use this document to ensure that you have proper record keeping in the event of any legal issue. The form will look similar to other sales agreements and needs signatures from all parties involved.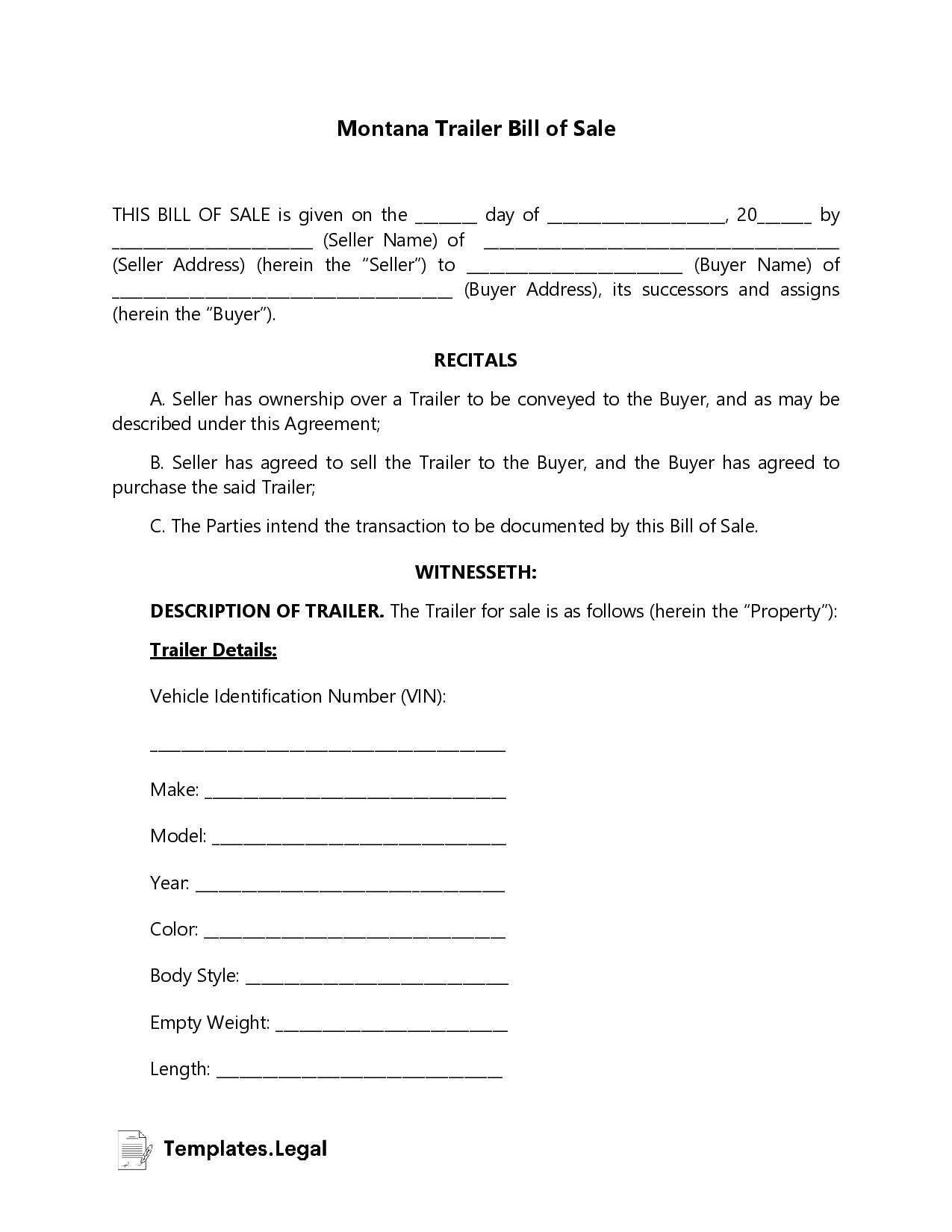 Montana Firearm Bill of Sale
According to Montana state law, Montana does not require firearm registration, and you do not have to submit a Montana gun bill of sale to the state after a transaction. However, it is always a good idea to maintain a record or paper trail when buying or selling firearms if one item links to criminal activity at some point.
Montana Horse Bill of Sale
There are several details that it is crucial to include when purchasing or selling a horse to ensure that the sale and condition of the animal are properly recorded. Use the horse bill of sale document to ensure that you keep everything pertinent.
FAQs
Here are a few more quick answers regarding Montana's legal requirements for citizens.