Connecticut Deed Forms & Templates
There are a few types of Connecticut deed forms to be aware of when transferring real estate between parties. We're going to give you a rundown of what you need to know.
Connecticut General Warranty Deed
A Connecticut general warranty deed is the most popular way to transfer property in the state of Connecticut. It is considered the most reliable way to ensure ownership of a property.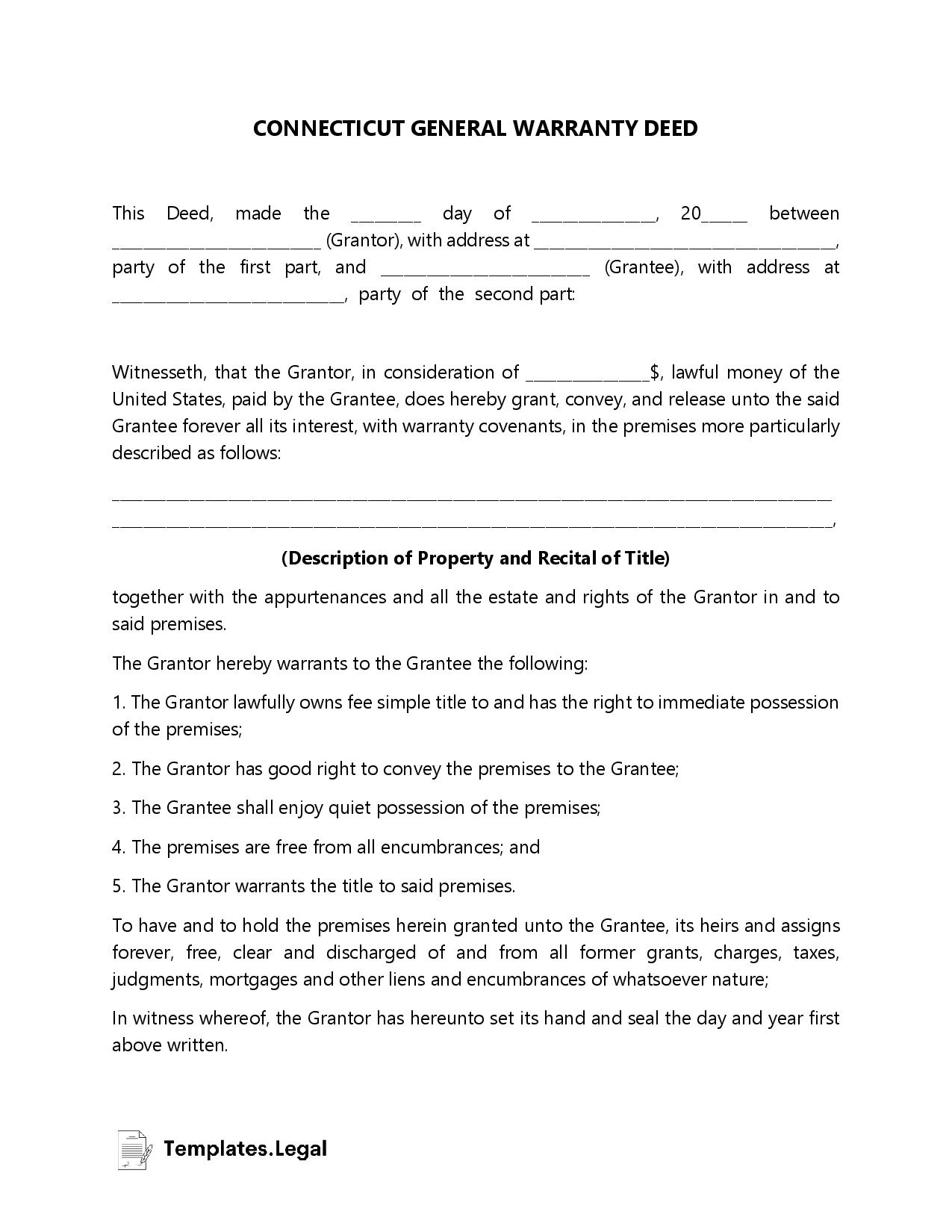 A general warranty deed means that the seller passes on all titles to the buyer (Grantee). This includes all titles held by previous owners so that the Grantee is completely secure in their ownership.
Connecticut Quitclaim Deed
A Connecticut quitclaim deed is what it sounds like- the seller has "quit their claim" to their property. With a quitclaim deed, the seller relinquishes any claim on the property and can't later come in with a claim against the new owner.
This is not a person's or lawyer's first choice when transferring property. Even though the seller has given up their rights to a property, a quitclaim deed doesn't guarantee that any other parties relinquish their claims. This means that the buyer's ownership is not guaranteed.
Connecticut Special Warranty Deed
While a Connecticut Special Warranty Deed will transfer property between two parties, it can be considered somewhat risky to the buyer.
A special warranty deed does not protect against title issues that came up before the seller took over a property. This means that it offers less protection to buyers, and more protection to sellers, than a general warranty deed.
Connecticut Deed of Trust
A Deed of trust means that the seller is selling a home for less than they owe on it. The buyer holds the property in trust and agrees to repay the lender the remainder of the loan as of the closing of a sale.
The mortgage lender agrees to hold the legal title to the property until the loan is fully paid. Some states use this type of real estate transaction instead of mortgages. In Connecticut, rules surrounding property transfer through a trust changed in 2016. Because of its newness, this may not be your first choice for property transfer in Connecticut.
FAQ Related to Connecticut Property Deeds
If you still have questions about Connecticut deed forms, here are some of the most commonly asked: