Minnesota Deed Forms & Templates
Searching for easy-to-understand information about Minnesota Deed Forms is a daunting task for those unfamiliar with the terminology and what a deed represents.
A deed is a legally binding document, sometimes also called an instrument, that is signed, attested, delivered, and confirms an interest or a right or property. The most common deed people deal with is a property deed or Minnesota Real Estate Deed.
Minnesota Real Estate Deed
When the actual property owner intends to transfer property interests to another either through a sale or the act of giving, a deed for property document is executed in writing and assigns the right to the intended owner. It must include the delivery of the deed to filing the deed at the appropriate office pending on the type of property.
In Minnesota, Conveyance is a term associated with when real property is created, mortgaged, and transferred. It applies to written documents where the title is affected, like house deeds, wills, leases, and power of attorney.
Minnesota Deeds of Conveyance
Warranty Deeds and Quit Claim Deeds fall under the Conveyance umbrella. You must file all legal documents with governing state authorities in the office of the county recorder.
Minnesota General Warranty Deed
Aor Property Deed is used to transfer real estate in Minnesota and requires the grantor's signature. For other property deeds in this category, like business warranty deeds, consult this list.
Minnesota Quitclaim Deed
A is also a legal form to convey real estate, but it comes with no legal assurance that the seller can do so legally and holds an unfettered title. For a complete deed document list, consult here.
Minnesota Special or Limited Warranty Deed
A equires a complete property search to ensure that the warranty extended from the property isn't encumbered or tainted before the current grantor acquires the title. This deed has a limited warranty only.
Minnesota Deed of Trust
A is a legal document a grantor can utilize to put their property and income into a trust with specific instructions upon their death or severe illness. This living trust can protect the estate and save on taxes.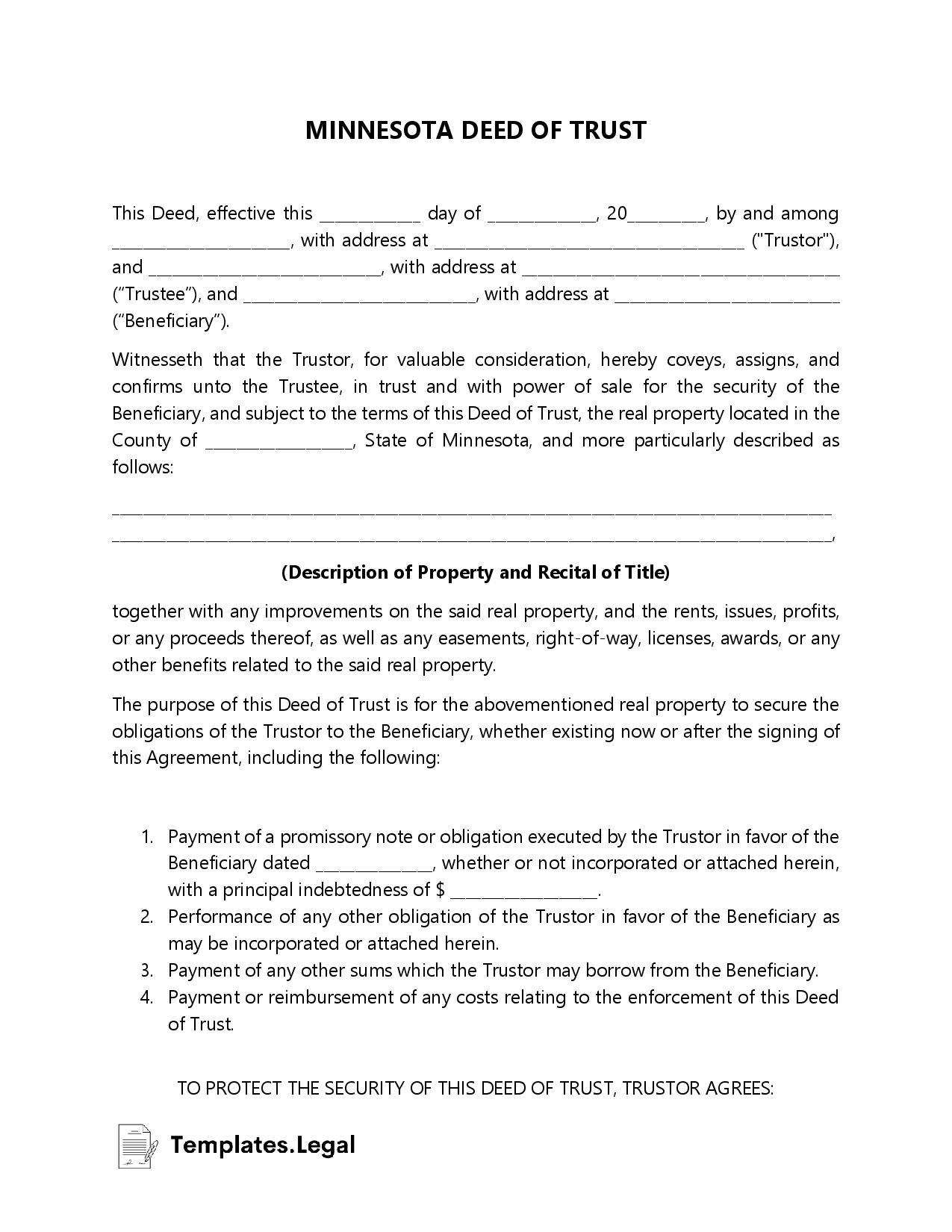 Transferring Deeds in Minnesota
To transfer a deed in Minnesota, complete the following steps.
Save time by completing and gathering all pertinent documents and information beforehand.
To Receive a Deed and the Cost of a Deed Transfer in Minnesota
Either visit a County Recorder's Office or search and be prepared to pay the deed tax of 0.0033% of net value. County Hennepin and Ramsey charge an additional Environment Response Tax Fund at .0001%. For a property sold at $100,000, the transfer fee is $330. Anyone can prepare a deed in Minnesota as long as the document meets the legal expectations to avoid consequences later. Most people requiring deeds often rely on expert advice from qualified lawyers to maneuver them through the process.