North Carolina Deed Forms & Templates
North Carolina deed forms are legal documents that transfer ownership of an asset, usually property, to a new owner in North Carolina. While all deeds transfer ownership of an asset to someone new, depending on the type of deed, there may be several conditions on the transfer of the title, which is a separate legal document.
There are four main types of North Carolina deeds we will be discussing: warranty deed, quitclaim deed, special warranty deed, and deed of trust. The North Carolina Real Property Marketable Title Act (NC General Statutes Chapter 47B) outlines all of these deeds.
All contracts in North Carolina used to sell or transfer ownership of property must be in writing, signed, and acknowledged by a notary to be legally valid. Keep reading to learn more about the different types of North Carolina property deed forms.
North Carolina General Warranty Deed
A North Carolina general warranty deed transfers ownership of property in North Carolina. This type of warranty comes with a guarantee that the property for sale has a clear title. This guarantee means that the buyer is protected from any undisclosed claim against the property they are buying.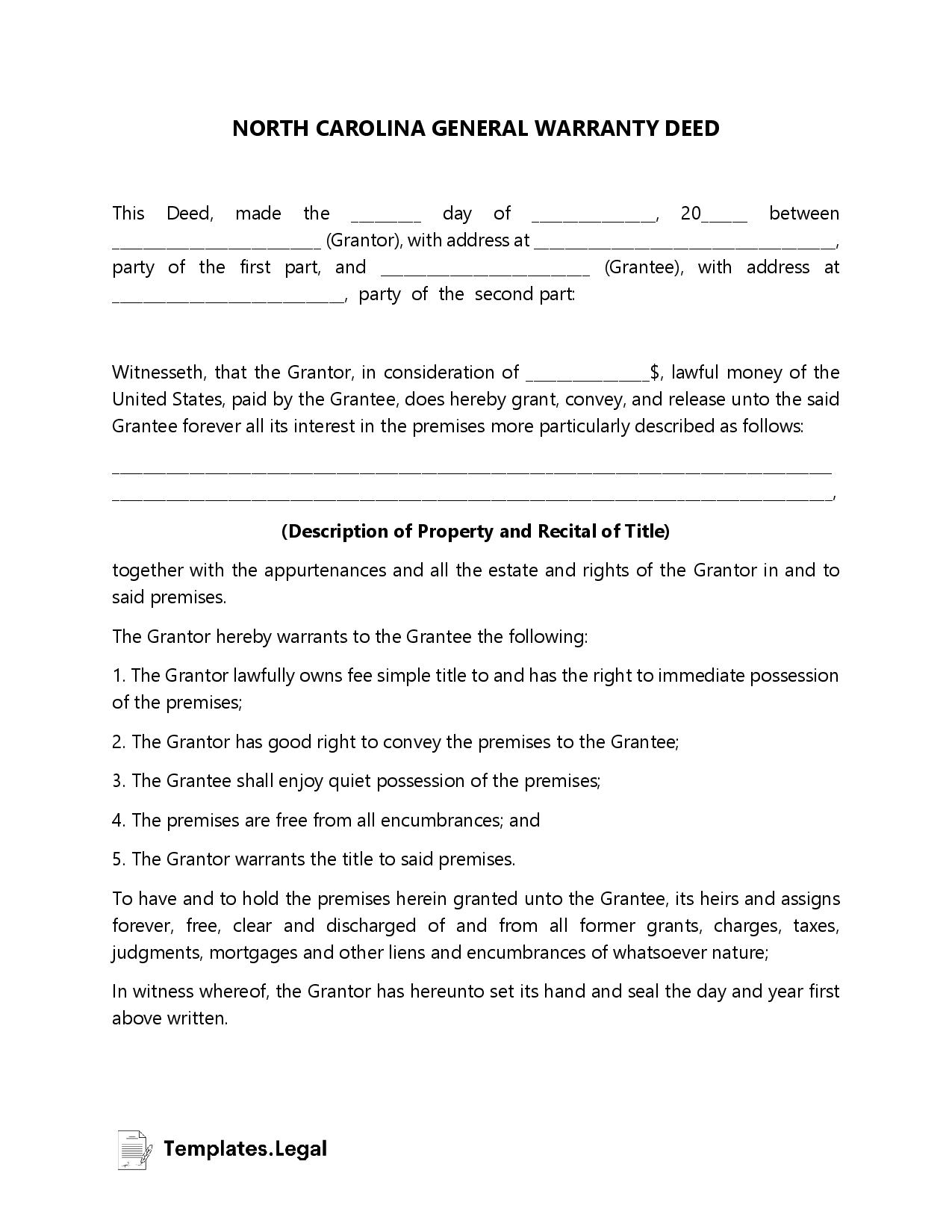 North Carolina Quitclaim Deed
A North Carolina quitclaim deed is a type of legal form used to transfer property ownership from one individual to another in North Carolina. However, the caveat for this is that there are no protections for the party receiving the asset or property. The property owner, the grantor, does not make any promises to being the legal owner of the property.
North Carolina quitclaim deeds are most often used in divorce settlements or transferring property between family members. If you do not know and trust the property owner personally, you should not use the North Carolina quit claim deed form.
North Carolina Special Warranty Deed
Like a North Carolina warranty deed, a North Carolina special warranty deed also has a seller's guarantee, but it is more limited. The seller only guarantees that they have done nothing to restrict the property title during the time they have owned the property; there is no guarantee to what previous owners may have done.
North Carolina Deed of Trust
A North Carolina Deed of Trust, similar to a mortgage, acts as a transferral of real estate. North Carolina is considered a deed of trust state over a mortgage state. The main difference between a North Carolina mortgage and a North Carolina deed of trust is that the foreclosure is different if the borrower defaults. Foreclosures on deeds of trust are quicker and more straightforward.
In North Carolina, there is a specific law that allows a real estate buyer, if they are married, to sign their North Carolina Deed of Trust without requiring the signature of their spouse. However, this rule only applies when using a purchase-money loan and not for refinances or sales.
Frequently Asked Questions
Below are a few frequently asked questions about North Carolina deed forms: