Illinois Power of Attorney Templates
Power of attorney grants a person the power to make legal decisions for another person. These
powers can range from business, financial, property, medical, and more. Illinois power of attorney law has many regulations in place to allow you to be as exact or as broad as you want.
In Illinois, the person granting the PoA rights is called the principal, and the person receiving the rights is the agent. Since the power of attorney forms for Illinois takes many factors into account, it's essential to understand the different types so that you can grant rights precisely as you want.
Illinois Durable Power of Attorney
A durable power of attorney is the most robust form of PoA. It allows your agent to make decisions on your behalf. This is true even if you become incapacitated. When filling out the form, you specify the powers you want your agent to have. A durable power of attorney lasts either until your death or until you go through steps to officially revoke the form.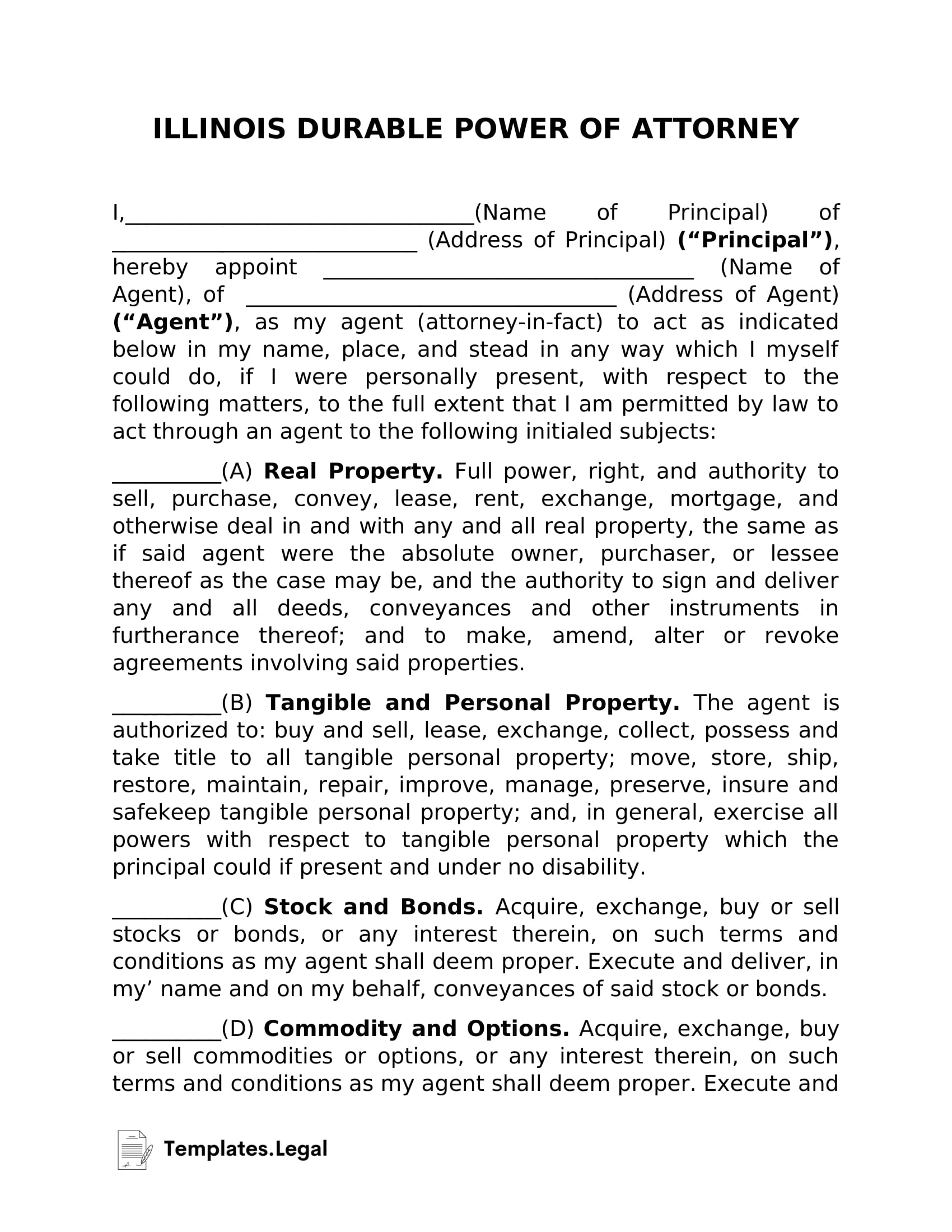 A durable option may bep referable, as it protects if you become unable to make your own decisions. It ensures that you'll be taken care of and your property will be managed the way you want without your loved ones having to go to court.
Illinois General Power of Attorney
A general power of attorney in Illinois grants your agent almost every type of power concerning financial, legal, business, and medical. You're giving someone full access to making decisions. Unlike the durable type, general rights stop if you become incapacitated. Otherwise, it ends at death.
Illinois Limited Power of Attorney
Limited PoA grants someone minimal rights for a specific period. You fill out a power of attorney form in Illinois and specify exactly what rights you want your agent to have. Your agent isn't allowed to do anything that's not on the form.
You may grant someone limited PoA if you're going to be out of town for a while and need someone to manage your affairs.
Illinois Medical Power of Attorney
A medical power of attorney allows your agent to make medical decisions on your behalf. They
can only make these decisions if a doctor says you're unable to make the decisions yourself. You want to choose someone you trust, as they may be making life-altering decisions for you.
Illinois Minor (Child) Power of Attorney
Minor power of attorney allows you to grant another person to make decisions for your child. This document is usually designated for a short period, not for the duration of childhood. This form is usually put in place when a parent is going to be out of the country for a long period or may be ill.
Frequently Asked Questions
See below for any more questions you may have about filing these legal documents in Illinois.