Kentucky Deed Forms & Templates
Kentucky property deeds take a few different forms. We're going to discuss the kinds of deeds you may use to transfer real estate in the state of Kentucky.
Kentucky General Warranty Deed
In Kentucky, general warranty deed transfers the property in question from a grantor, or seller, to a grantee, or buyer.
With this type of deed, the grantor states that they are the legal owner of the property and as such, they are legally allowed to sell it. The seller also guarantees the buyer that the property is clear of any charges against it. If any problems or challenges to the title do come up, the seller is liable, not the buyer. Thus this type of deed offers the most protection to the buyer and is common in Kentucky real estate dealings.
Kentucky Quitclaim Deed
You can use a quitclaim deed to transfer property in the state of Kentucky. This kind of deed comes with very few protections for the buyer. It simply states that the seller is relinquishing interest on a property. It does not guarantee there are no other claims to the title or that the seller can sell a property outright.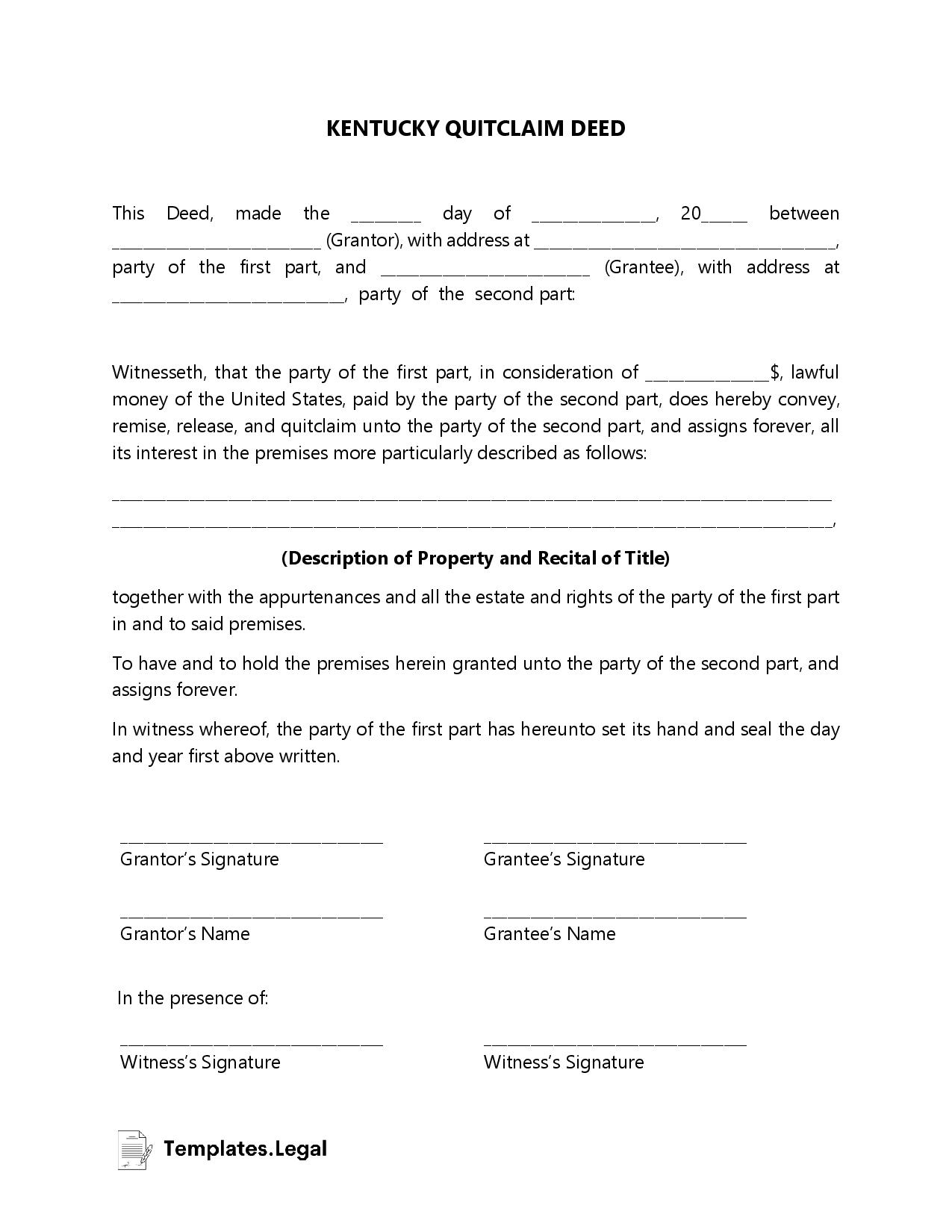 A quitclaim deed is most commonly used to transfer property between family members and spouses.
Kentucky Special Warranty Deed
This kind of deed only guarantees that the property is clear from encumbrances from the time the current seller has held the property. It does not guarantee a clean title outside of their ownership.
Kentucky Deed of Trust
A property can be transferred via mortgage or deed of trust. Though not all states allow the use of a deed of trust, Kentucky is a deed of trust state.
A deed of trust is an agreement between a home buyer and a lender, who issues a loan for the buyer. The lender, or trustee, holds the title of the property until the buyer repays the loan in full.
FAQs for Kentucky Deed Forms
Here are the commonly asked questions about preparing for a poverty transfer in the state of Kentucky: