Kansas Last Will and Testament
Upon an individual's death, it is helpful to the family as well as the courts to know how to distribute the estate of the deceased. This can include real estate property, dependents, items of value, pets, vehicles, antiques, and stock portfolios, as well as other financial assets.
A Kansas last will and testament is the written legal record that details the individual's wishes for their estate. There is also a designated space on this type of will for the individual to appoint someone (known as an executor) to carry out their wishes.
Though it is possible to direct some health provisions on a last will and testament, this is an area typically reserved for a living will document.
Read on for instructions on creating a free last will and testament in Kansas.
Kansas Last Will and Testament Template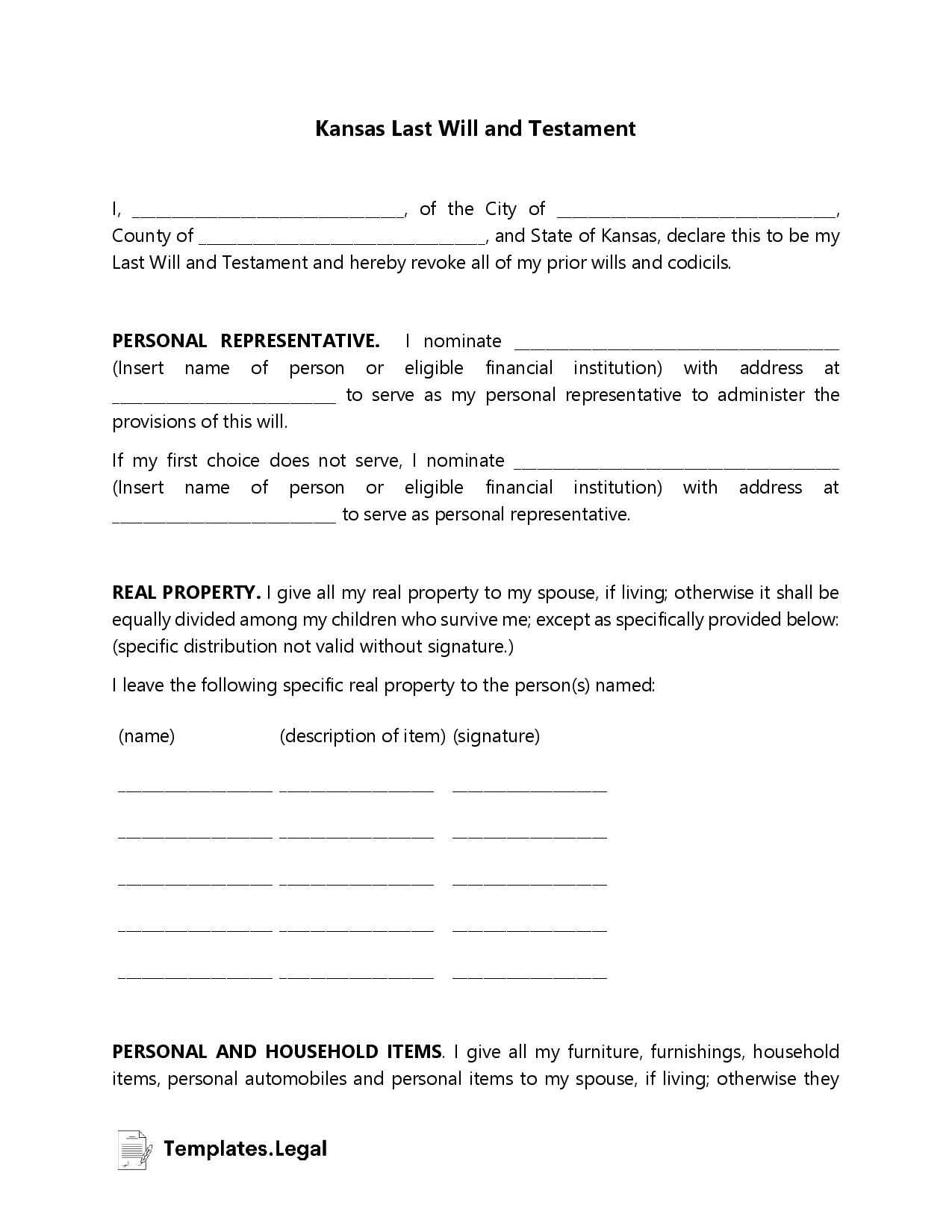 How to Draw Up a Will in Kansas
The state of Kansas provides online forms for use by any Kansas citizen. They are available to print with Adobe as a .pdf, or through Microsoft Word.
A last will and testament form will detail:
Establishment of Testator (individual with property to be distributed)
Establishment of Executor (individual with the power to carry out their wishes for the property)
Optional Alternative Executor
Beneficiary (those receiving the property) Information
Titled Sections
Binding Agreement
Signatures
Requirements
All individuals named in a last will and testament must provide personal information such as their address, city/county of residence, relationship to the testator, and (for beneficiaries) the last four digits of their social security number. This is an effort to establish the authentic identities of all parties involved.
In order for any Kansas document to be valid, it must be signed by two witnesses of no relation to the individual, who must provide their addresses. A notary public needs to be present to witness all signatures.
Once the appropriate forms are submitted, there is a waiting period of four months before it's possible to distribute any assets. This time allows for creditors to file claims against the estate.
FAQ