Missouri Last Will and Testament
for how the testator's estate will be allocated after their death, including financial accounts, personal property, insurance policies, fiduciary assets, and several other properties or assets.
The beneficiaries typically include the testator's spouse, children, blood relatives, friends, and charities. However, the testator can choose any beneficiary or charitable organization to inherit their property and assets.
Without a last will and testament, the state's laws determine who will inherit the assets.
Missouri Last Will and Testament Template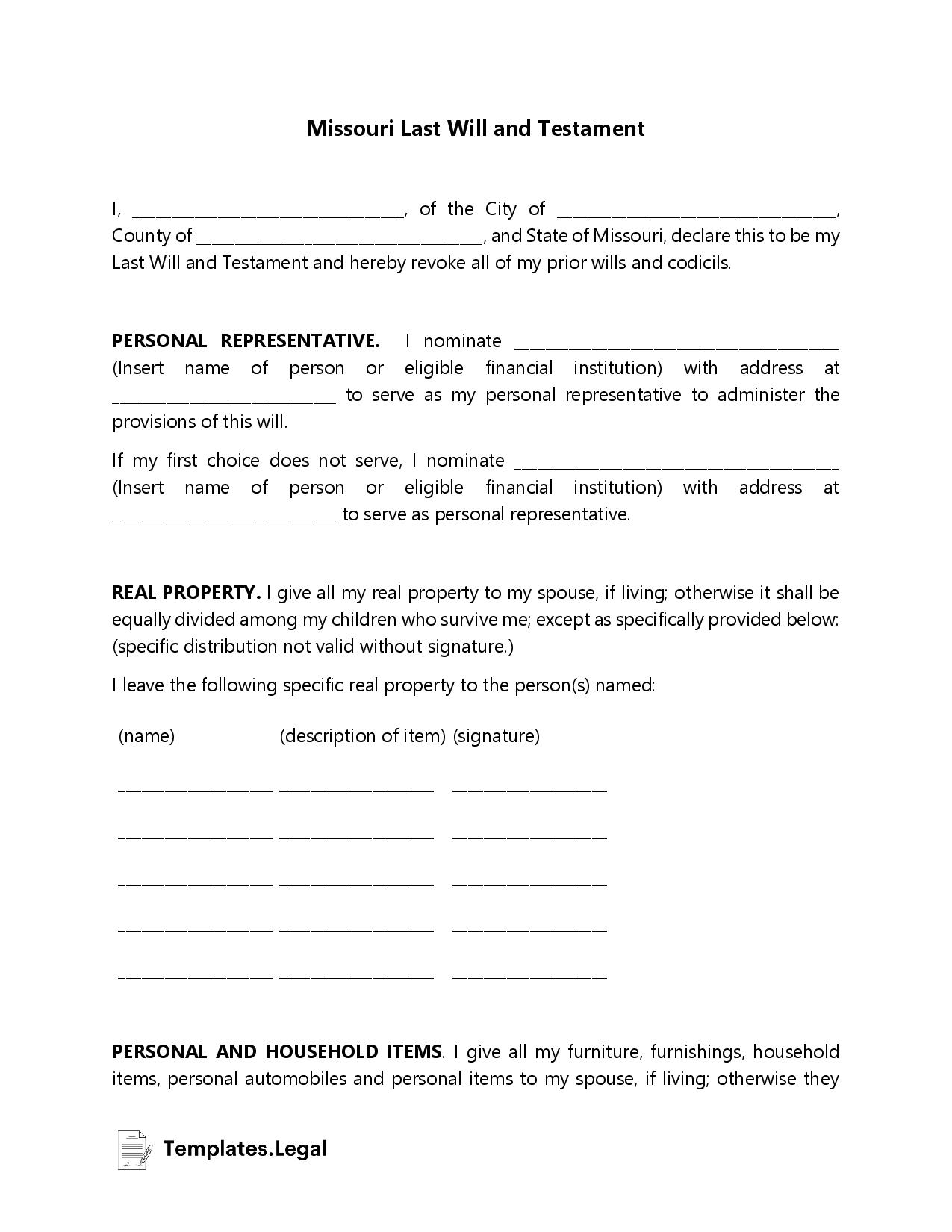 How to Write
Complete Testator Information

The testator includes the following information on the legal document:

Legal name
City
County
Review the remainder of the paragraph
Review "Expenses and Taxes" section

Nominate a Representative

The representative, or executor, must be of sound mind and is typically a trusted individual.

Full name of the chosen executor
Name of executor's city
County
State of residence

The testator then provides information for an alternate executor in the event the primary executor cannot fulfill their duties:

Full name of alternate executor
Name of executor's city
County
State of residence

Disposition of Property

Information of beneficiaries:

Full legal name
Current address
Relation to testator
Last four digits of their SSN
List or description of the property being bequeathed

Review

Testator reviews the following:

Omission
Bond
Discretionary Powers of Personal Representative
Contesting Beneficiary
Guardian Ad Litem Not Required
Gender
Assignment
Governing Law
Binding Arrangement

Witnesses/Signatures

The witnesses must be present when the testator signs the document, review the brief statement and provide their information on the document.

Provide testator's full name
Date of testator's signature
Signature of testator
Printed name of testator

Witnesses Section (for both Witness 1 and 2)

Date document
Provide name of testator
Witness signature
Witness address

Testament Affidavit

The testator and both witnesses must review the legal document and then provide the following information:

State
County
Name of testator
Name of Witness 1
Name of Witness 2
Testator Signature
Witness 1 Signature
Witness 2 Signature
FAQ