Arkansas Power of Attorney Templates
An Arkansas power of attorney can be useful for various purposes. The state has different power of attorney agreements, so you can choose the one that best fits your needs as the principal. You can also choose an agent you trust to act as your power of attorney.
Arkansas Durable Power of Attorney
A durable power of attorney in Arkansas will remain in effect even if the person with the power of attorney becomes incapable of normal functioning. If the principal becomes incapacitated, other types of power of attorney will not be in effect. A power of attorney is durable unless stated otherwise on the initial power of attorney form in Arkansas.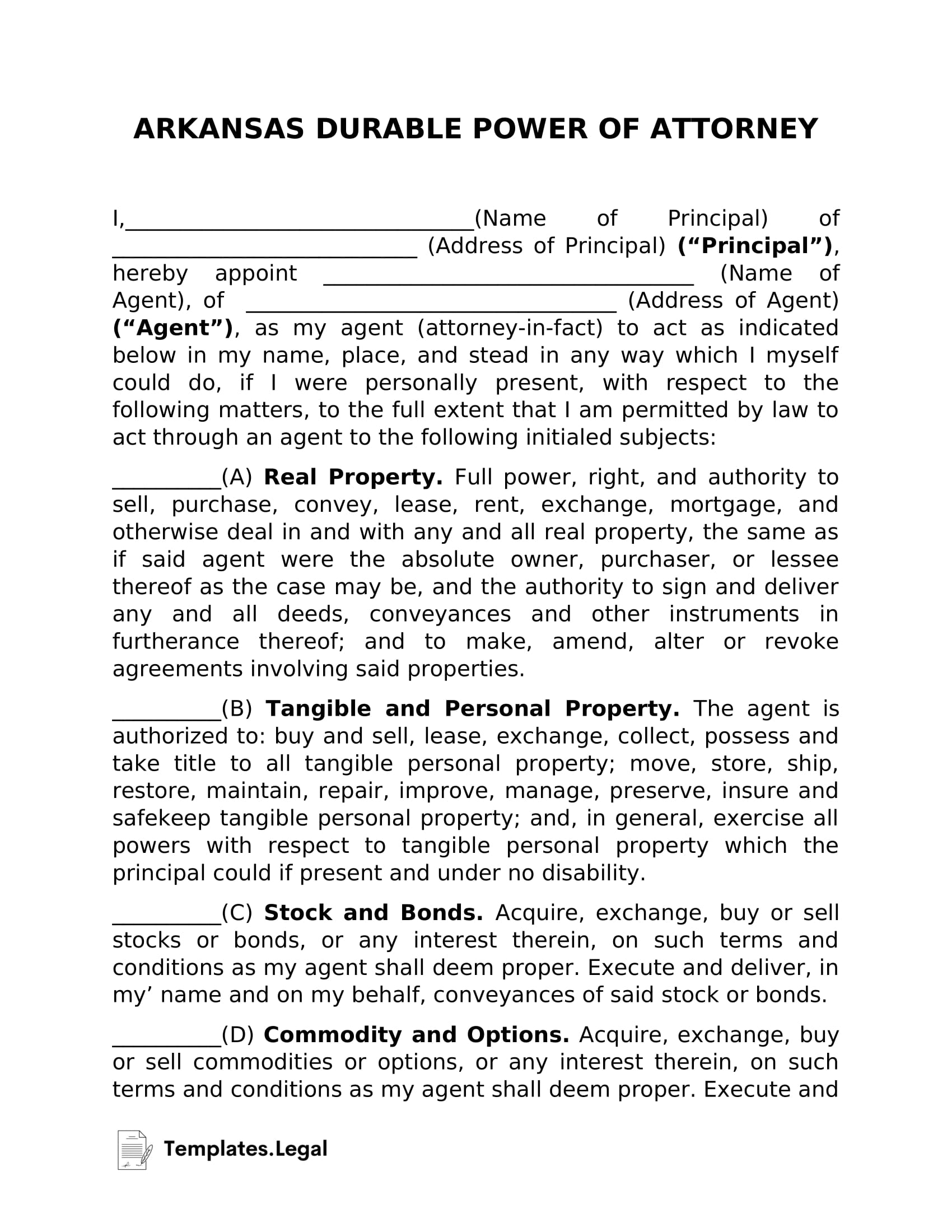 Arkansas General Power of Attorney
You can also use a free Arkansas power of attorney form to create a general power of attorney. A general power of attorney gives your agent permission to act in your name. They can sell your car, buy a home, and take money out of your accounts.
Arkansas Limited Power of Attorney
A limited power of attorney in Arkansas gives a small range of power to the agent. The principal can allow the agent to complete a specific task or goal. You can list these actions on a free Arkansas power of attorney form. The form can include as few or as many tasks as you need.
Arkansas Medical Power of Attorney
Granting someone medical power of attorney in Arkansas allows them to make healthcare decisions for you. If you become unable to make medical decisions for yourself, your power of attorney can act in your best interest.
Arkansas Minor (Child) Power of Attorney
If you have children under 18, a minor power of attorney allows you to select someone you trust to care for and make decisions for your children. You can determine how long the power of attorney will last, which can help if people are unable to reach you for some time.
FAQs
While you should understand the different options you have when getting an Arkansas power of attorney, you may have other questions. Here are some answers.