Missouri Power of Attorney Templates
Missouri Power of Attorney (POA) is a crucial solution during a serious life event like an accident, illness, or period when you are traveling or away. Designating an agent to make critical choices and decisions on your behalf gives you peace of mind during a stressful time. Below we dive into the different situations when you will need or utilize a Missouri Power of Attorney.
Missouri Durable Power of Attorney
The durable power of attorney (DPOA) for Missouri provides a document that enables an agent the legal right to make decisions and act for another person in Missouri.
A DPOA remains active, even if the principal can no longer make their own choices. This element is the difference between durable and non-durable POA.
Missouri General Power of Attorney
The Missouri General Power of Attorney (GPOA) process enables a person to transfer power to the agent to act on the principal's behalf for broad financial matters. Whoever the principal appoints will be able to act as if he or she were the principal.
All decisions are considered binding, and the form to complete is comparable to the DPOA, except for one discrepancy. Once you can no longer make decisions on your own and become incapacitated, the document is then void.
Missouri Limited Power of Attorney
The form for Missouri Limited Power of Attorney (LPOA) is useful when the principal requires representation for a set period or specific transaction. LPOA is beneficial when you are traveling or away, and you need someone to complete a real estate transaction. You can also use an LPOA when you need an agent to handle your money while on leave or traveling for a long time.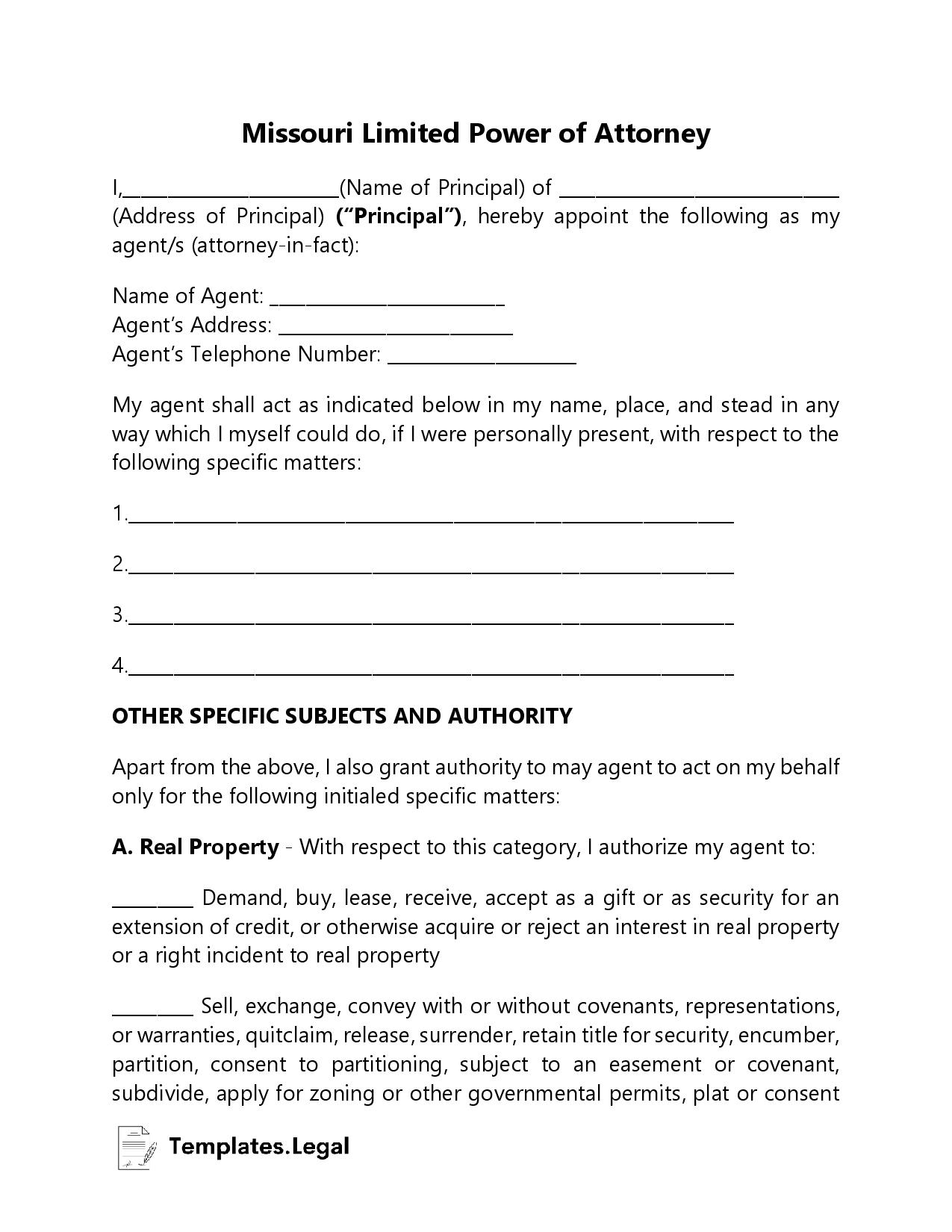 Missouri Medical Power of Attorney
The legal document for Missouri medical power of attorney (MPOA) allows you to designate someone to make critical healthcare decisions when you cannot communicate. These decisions extend to instructions for care, treatment, and other essential decisions of health. The document is also referred to as a Missouri Medical POA or a Missouri Health Care POA.
Missouri Minor (Child) Power of Attorney
The Missouri minor power of attorney (CPOA) document transfers guardianship to the agent for a parent's child. CPOA enables the reliable individual to make decisions about the child's healthcare, education, and other critical affairs. The agent is prohibited from making important decisions for the child, such as adoption, marriage, or abortion.
Missouri Power of Attorney FAQs
In case you are still unsure about the Missouri POA, below are some frequently asked questions.