Utah Deed Forms & Templates
A deed is a legal document that transfers ownership of a piece of real property from one owner (the "grantor) to another (the "grantee"). Parties can use several Utah deed forms for different real estate transactions.
Utah General Warranty Deed
A Utah warranty deed, sometimes called a general warranty deed, does more than simply transfer property from a grantor to a grantee. In addition to transferring the property, a warranty deed guarantees that the title to the property is free from any undisclosed encumbrances or defects.
This warranty applies to actions by the grantor and encumbrances or defects caused or suffered by any prior owners. If the grantee later discovers an undisclosed defect or encumbrance, the grantor is responsible for curing any such defects.
Utah Quit Claim Deed
A quitclaim deed transfers a grantor's entire property interest to a grantee. However, unlike a warranty deed, a quitclaim deed does not guarantee whether that property interest is complete, unencumbered, or defect-free. A quitclaim deed can even transfer a partial ownership interest from one individual to another.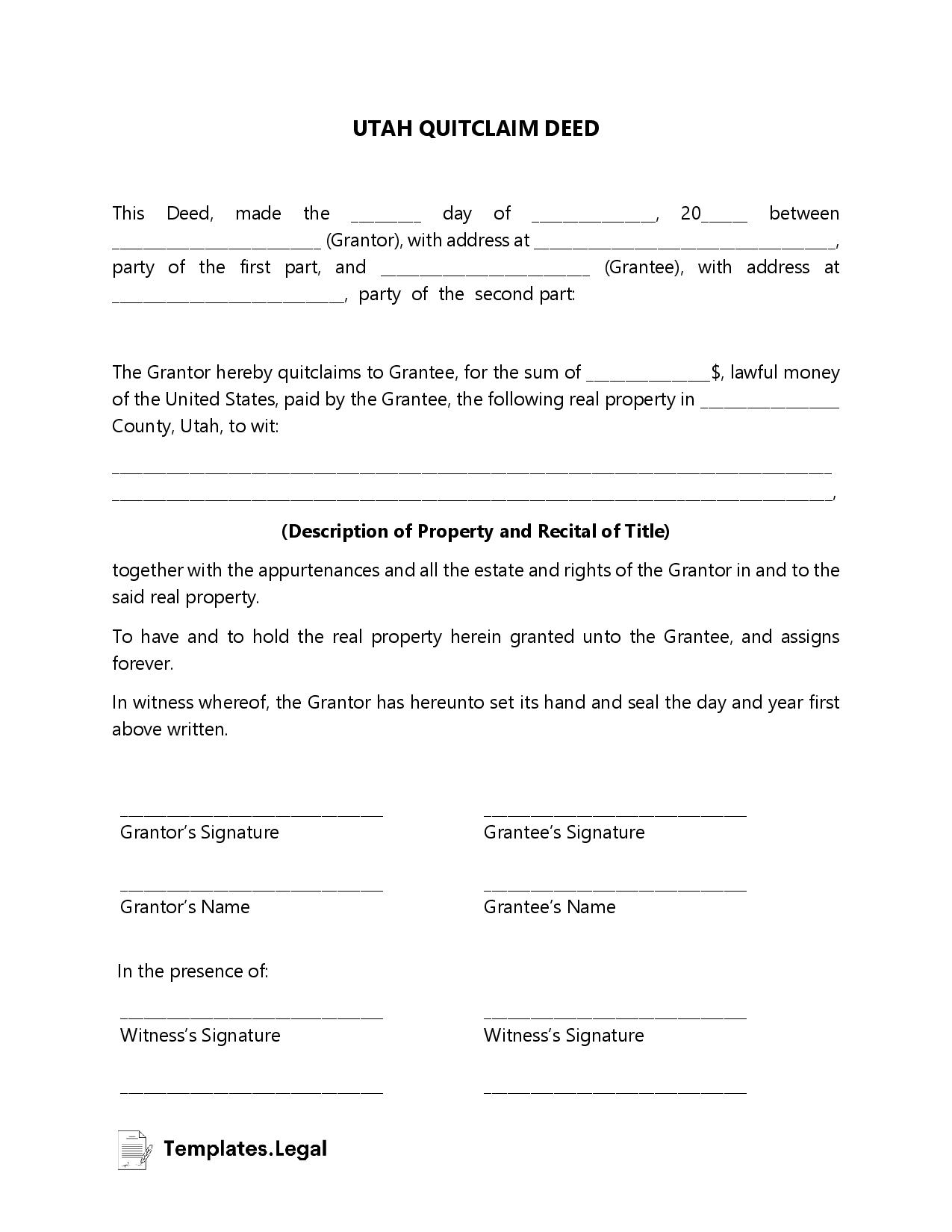 Because it offers no protection to the grantee, Utah quitclaim deeds are rarely used in real estate purchase transactions. They're more common in divorces and transfers of property between family members as gifts.
Utah Special Warranty Deed
A special warranty deed offers some protection to the grantee, but not as much as a warranty deed would. Under a Utah special warranty deed, the grantor guarantees that the property is free of any undisclosed encumbrances or title defects that they have caused.
This guarantee does not extend to the actions of prior owners, however. If the grantee later discovers a defect from further back in the chain of title, they are responsible for curing the defect themselves.
Utah Deed of Trust
Lenders often ask for an interest in a borrower's real property as security for large loans. Two standard instruments used to accomplish this are mortgages and deeds of trust. Some states use one or the other, and some states use both.
Utah does not use mortgages. A Utah deed of trust transfers a partial ownership interest from the borrower to the lender, who becomes a trustee of the property. Then, if the borrower ever defaults on the debt, the lender can sell the property without a court order.
FAQs
Here are some common questions about Utah property deeds.