Durable Power of Attorney Templates
A durable power of attorney is a legal document established to protect a person in the event of a medical emergency. This specific type of document authorizes a chosen individual (the agent) to make financial, medical, and legal decisions for you (the principal).
If you become unable to communicate due to injury or illness, a durable power of attorney remains in place. If a power of attorney is not deemed durable and you become incapacitated, it will cease to be in effect.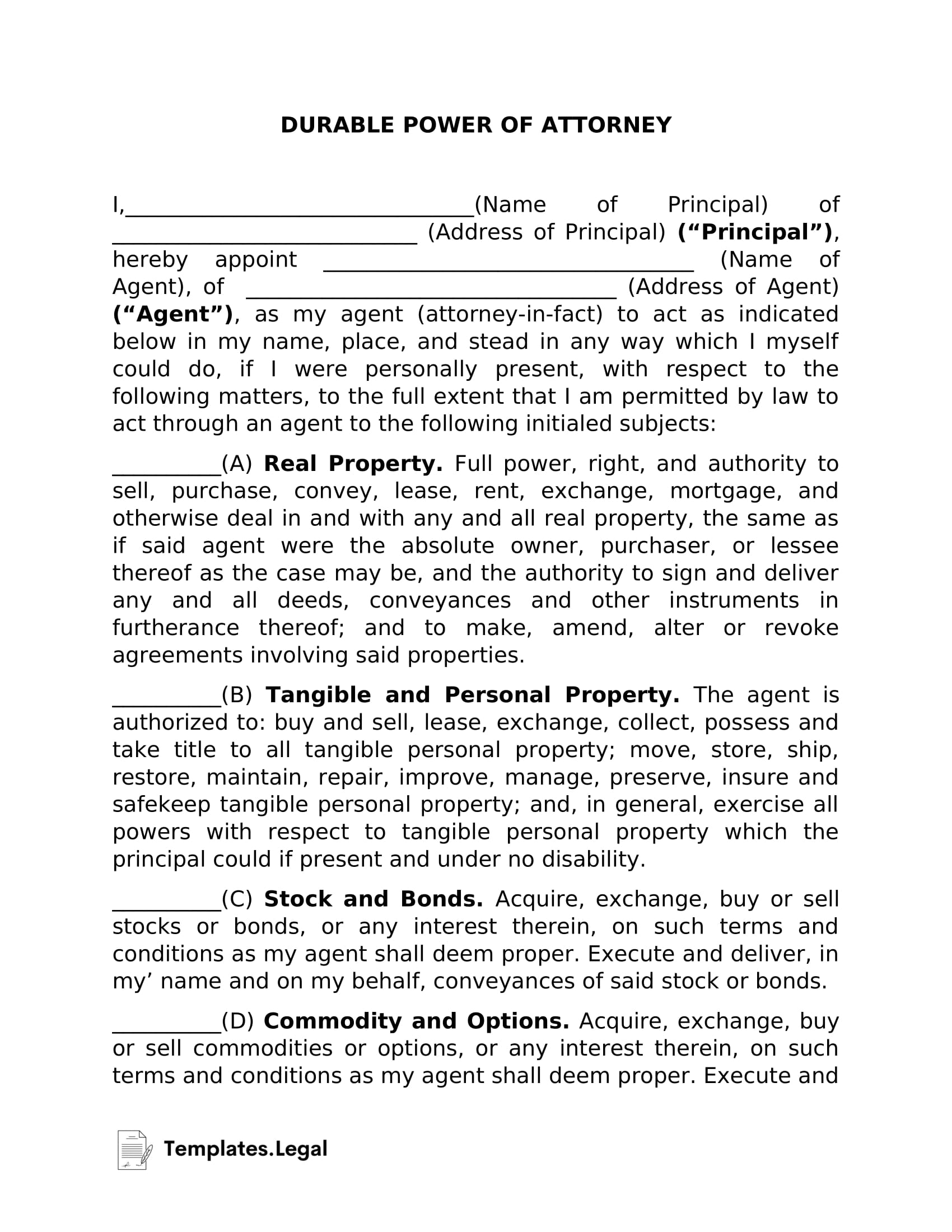 Durable Power of Attorney By State
Steps to Get a Durable Power of Attorney
Before you begin the process, be sure you have someone you can trust. This person will be your agent and they will act on your behalf. Make sure this person has your best interests at heart. Having someone you trust makes this process that much easier.
Find Valid Durable Power of Attorney Forms

Make sure the forms you find or download are valid in your state/country.
You can download a free durable power of attorney template on out site.

Complete the Forms

Provide the information necessary to fill in the form. Once completed, read it over carefully with your agent.

Sign the Document in Front of a Notary

Your durable power of attorney will go into effect as soon as it's signed. No matter what state you live in, you will be required to sign in front of a notary. If you don't have a notary and don't know where to find one, you can use this Notary Locator by the American Society of Notaries.

Share Copies of the Document as Necessary

You will need multiple copies of the document to give to institutions that will require proof of a power of attorney. For example, a medical power of attorney will have to be filed with your doctor. A financial power of attorney will have to be presented to banks so your agent can access your accounts.
You and your agent should keep your copies of the durable power of attorney document in a safe place.
Frequently Asked Questions
Here are some answers to the most frequently asked questions when it comes to durable power of attorney.