Stock Purchase Agreement Templates
Say you're interested in purchasing stocks for a business that's doing well the past couple of years. You might be new to stocks or a long-term veteran investing in multiple soaring companies. Either way, you've come to the right place.
We'll dive into what a stock purchase agreement is, what it entails, and how to write this document in this article. Keep reading to discover more about stock purchase agreements and how they help finalize this process when considering an investment.
Stock Purchase Agreement Template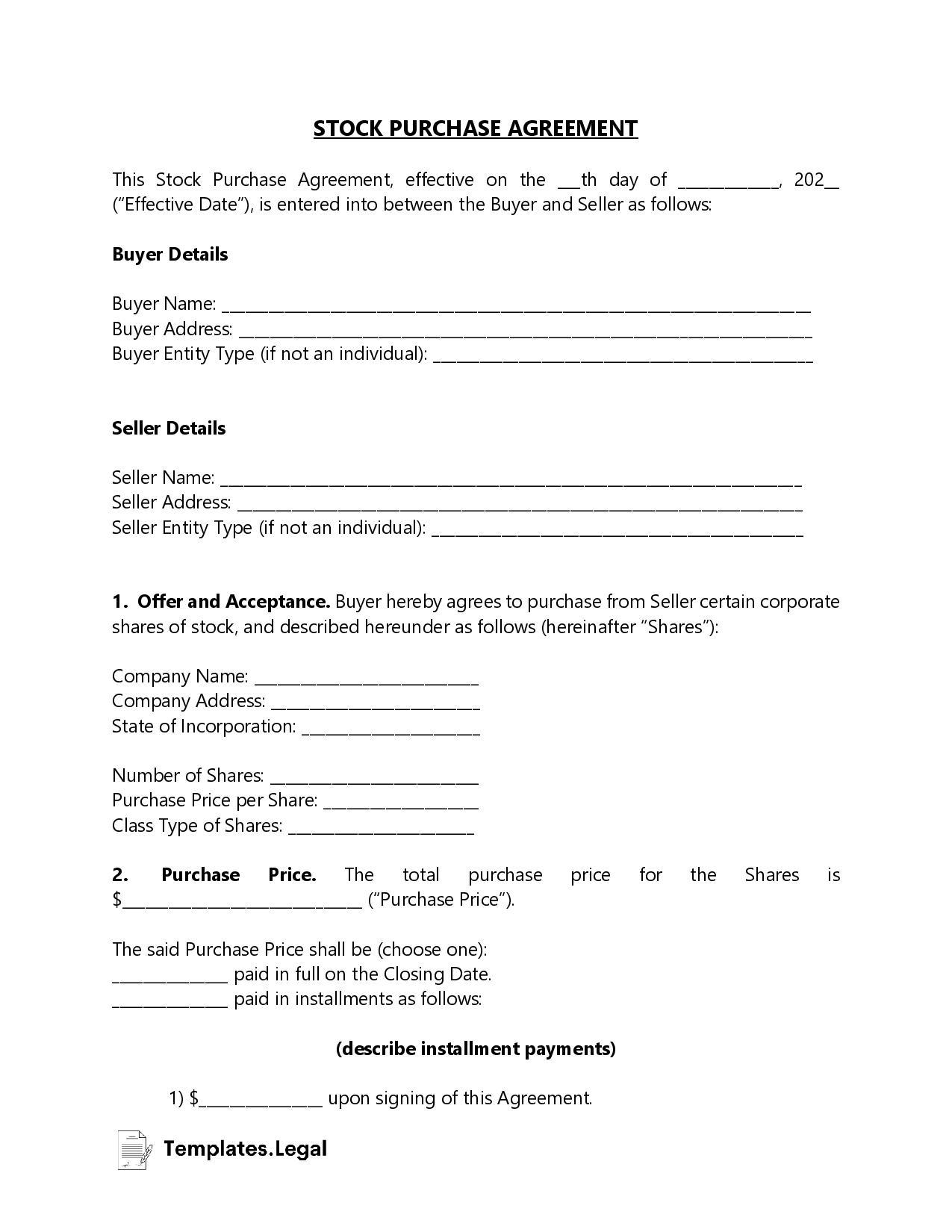 Stock Purchase Agreements by State
What Are The Different Types of Stock?
It's important to establish what stocks are and why they're valuable before diving into what a stock purchase agreement entails. The six types of stocks are the following:
Corporations
Limited liability companies
Partnerships
General partnerships
Limited partnerships
Trusts
Stocks allow someone to buy ownership of a business through its share of stock. Or, buyers can purchase a percentage of the company. With private businesses, stock purchase agreements go through a due diligence period. Whereas, with public businesses, the transaction can occur right away. In the same vein, private businesses transfer a physical stock certificate to the buyer.
What Is a Stock Purchase Agreement?
A stock purchase agreement, or a SPA, is an agreement between a buyer looking to invest in shares of a business for a set price from the seller. A stock purchase agreement details the number of shares, the price, the sales date, and other terms established by both parties. After they sign, they exchange the funds for the stocks as soon as possible.
A purchase agreement for stock establishes the buyer and seller's names. Additionally, this document lists the description of shares, the purchase price, closing date, and a due diligence period, if applicable. You can purchase stock through an in-person agreement or online. A stock purchase agreement also clarifies whether you can trade the stock publicly or not.
Why Stock Purchase Agreements Are Important
A stock purchase agreement creates a contract between two parties – the buyer and the company, or shareholders. A stock purchase agreement shows written consent between these parties. Law requires that you describe the company shares being sold and bought for a specific amount. Typically, lawyers prepare a stock purchase agreement because many legalities can be tricky to cover without a background. We'll talk more about that later.
A stock purchase agreement details the number and type of stock sold, alongside the purchase price and further transactions, such as the price per share. Stock purchases break down definitions of important terms used within the document – for example, how the stock purchase agreement uses applicable law types.
Additionally, stock purchase agreements establish the purchase and sale of the stock, detailing the transaction with purchase prices and the number of shares.
When You Should Use a Stock Purchase Agreement
Legal opinions and escrow and employment agreements adjust stock purchase agreements. A stock purchase agreement shows the representations and warranties of the seller and buyer. They need to verify that these descriptions are true via their signatures.
A stock sale contract makes the contract official between the buyer and seller. They must establish how they intend to spend the time between the signing and closing date. In other words, will the business continue to operate as it did before this transition of stocks?
A stock purchase agreement handles the protection and compensation against damage, loss, or injury within the company.
To summarize, this documentation is a formality between the buyer and seller to discuss everything we've covered thus far. A stock purchase agreement also clarifies financial statements and requirements to end the contract if that situation arises.
A stock purchase agreement is necessary if you plan on growing your company with skilled employees and creating shares.
Stock Purchase vs. Asset Purchase vs. Restricted Stock Purchase Agreements
There is a minor difference between a stock purchase agreement and an asset purchase agreement. The buyer doesn't obtain the seller's liabilities. The stock has all the company's obligations in addition to any assets.
On the other hand, a restricted stock purchase agreement allows companies to protect their ownership more. Stock options lure talented employees in, meaning they will stay loyal to their company.
Think about it this way: an employee resigns after two years, but the company's stock allows them to purchase their stocks back during a four-year schedule. The longer the employees stay, the more interested and motivated they'll be in the success of the business they work for, meaning that the total shares will increase.
Frequently Asked Questions
We'll answer some common inquiries about stock purchase agreements in this section.